John LaRocca looks at Goldberg's successful WWE comeback.
Looking back at Bill Goldberg's most recent WWE run, you have to consider it nothing short of a success, starting with the booking of Goldberg versus Brock Lesnar at last year's Survivor Series. In short, it was brilliant.
It took a lot of guts to book Goldberg to squash Brock Lesnar, WWE's monster and one of their highest paid stars, in a little over one minute. Right before the bell, I joked to Garrett Gonzales and Dave Meltzer, "What if Goldberg squashed Lesnar just liked it was 1998 on WCW Nitro again?"
The bell rang and that is exactly what happened. It was shocking, but was exactly what was needed. Just like that, it was 1998 again and the Goldberg express was off and running again.
A SPEAR BY @GOLDBERG has the #BeastIncarnate reeling!! #SurvivorSeries #WWE2K17 pic.twitter.com/AYkU1DHg9d

— WWE (@WWE) November 21, 2016
The follow-up was a confrontation between Goldberg and Lesnar at this year's Royal Rumble. Many expected Lesnar to get his revenge and eliminate Goldberg in the match. What we got was another shocker. Goldberg once again ran through the "Beast Incarnate" and eliminated him over the top rope. Again, it was another brilliant booking decision.
Branching off the Chris Jericho versus Kevin Owens build, Goldberg found himself challenging and winning the WWE Universal championship at Fastlane. The championship added some sweet barbeque sauce on a already juicy steak for his rematch with Lesnar at WrestleMania 33.
At WrestleMania, Brock Lesnar got his revenge and defeated Goldberg to become the Universal champion. The day after WrestleMania, I was reflecting on the matches that night. Though my initial pick for match of the night was AJ Styles versus Shane McMahon, the next day, the most memorable for me was Goldberg and Lesnar. It was physical, fast, and dramatic. After a long show, this match was late on the card and the fans were up for every minute of it. Like WrestleMania 33 tagline said, this was an ultimate thrill ride.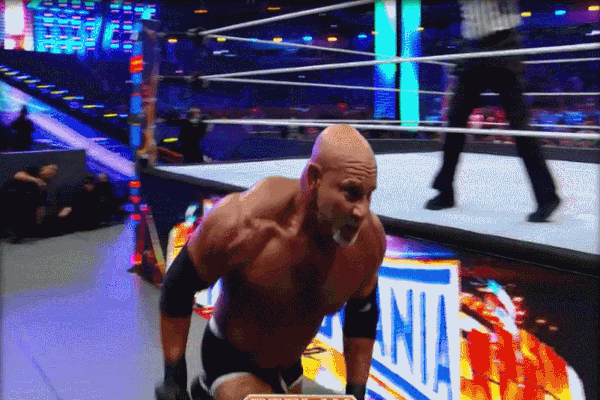 After the following day's Monday Night Raw telecast was over, Goldberg came out and addressed the audience. He was open and honest in talking about the rollercoaster of a ride he had been on since his return to the WWE. He left whether or not he would return again open. One would expect that after the success of this run, we will see Goldberg in the ring again.
If it was me, I would pitch for Goldberg to comeback next year for one more match at WrestleMania 34. If the Undertaker is truly retired, then I think Goldberg versus John Cena is the perfect special attraction dream match for WrestleMania. There doesn't have to be a long drawn out angle to set the match up. It could be simple challenge between two legendary characters in the world of pro wrestling. Goldberg versus Cena sells itself.
If this was truly Goldberg's last match inside a pro wrestling ring, what an unbelievable career he had. From day one, he always made money and in record time, was making big money.
I loved the character. The streak had me hooked. I couldn't get enough of Goldberg coming out and smashing opponent after opponent. Who could forget him defeating Hulk Hogan at the Georgia Dome in July 1998 to win the WCW World title? One of the loudest reactions I ever saw live was in Oakland, CA for a WCW Thunder TV taping at the end of that same month. Goldberg squashed The Giant (Big Show) in a dark main event at the end of a very long television taping. Seeing that energy that Goldberg created live is something I will never forget.
When I would watch pro wrestling back then, my brother-in-law would give crap about watching it. He would make fun of pro wrestling and make fun of me for wasting my time watching it. One day, he wanted to know all about Goldberg. He said though pro wrestling was silly, Goldberg was believable. WCW SuperBrawl 1999 was coming to Oakland, CA and he wanted to buy tickets to see Goldberg live and in person. I couldn't believe it. Though I already knew Goldberg was the man, that truly made me realize that Goldberg was something special.
While thousand of wrestlers play ass kicker, Goldberg was of the rare ones that pro wrestling believers and non-believers all believed in.